PRODUCTS
BoxPower MiniBox
The BoxPower MiniBox is a pre-engineered solar power station, prefabricated inside a 4′ x 8′ palletized enclosure. All energy systems are equipped with a solar array, batteries, inverters, and the option to add an integrated generator. The MiniBox microgrid solution can seamlessly switch between off-grid and grid-tied operation.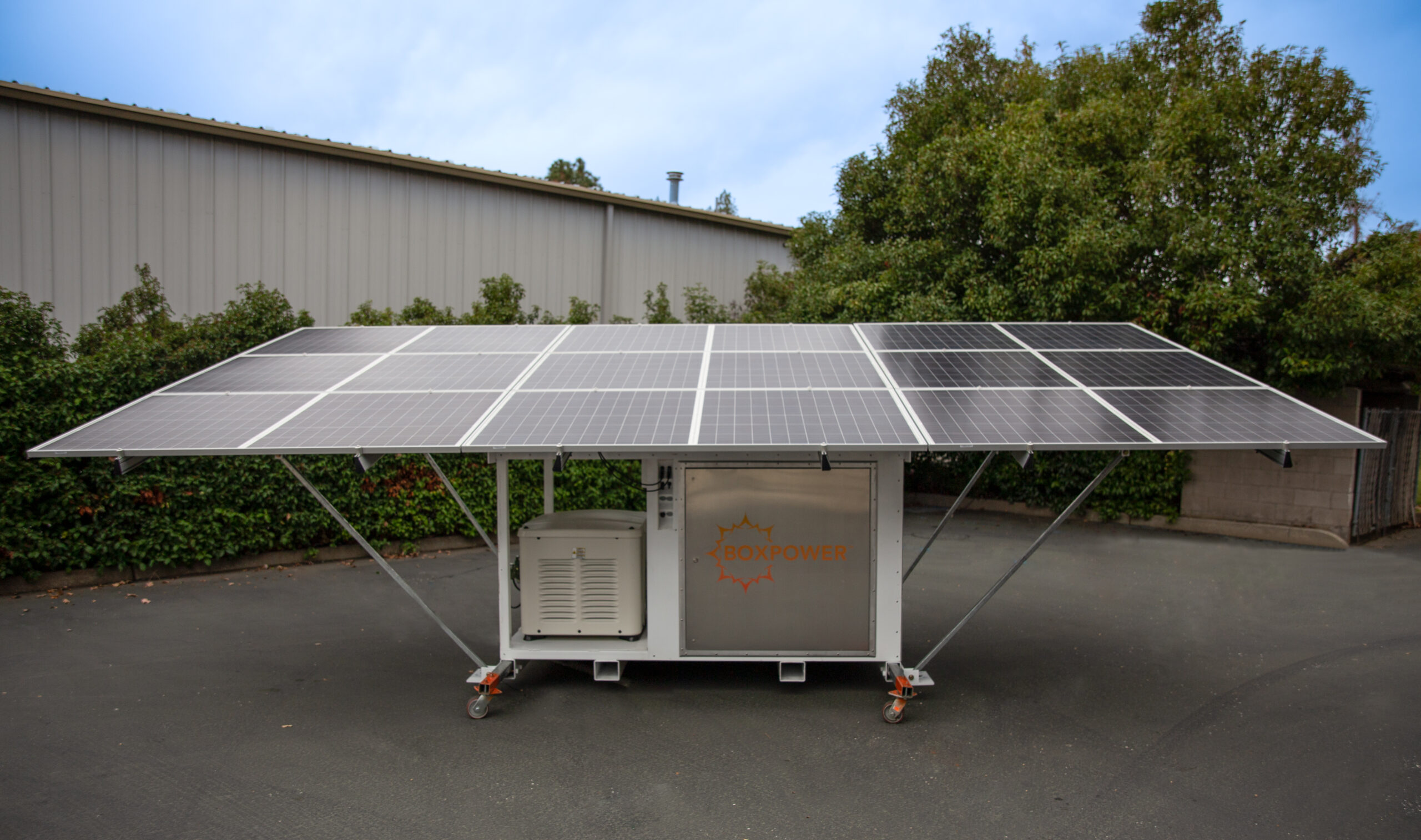 The solar energy container optimized for small loads
The structural, electrical, and solar components are delivered inside the palletized enclosure and require less than a day to assemble.
100% reliable rain or shine
Modular and scalable
Seamless switching between grid-tied and off-grid operation
Installs in a few hours, no foundation required
Pre-wired outlets for plug-and-play use
Fully automated operation with remote monitoring and control
Mobile and towable
MiniBox solar power station features
The MiniBox is ideal for small off-grid or grid-tied applications as a cost-effective alternative to traditional generators. Due to its flexible design, multiple MiniBox containers can be added and linked together to accommodate higher loads.
MiniBox Standard Specifications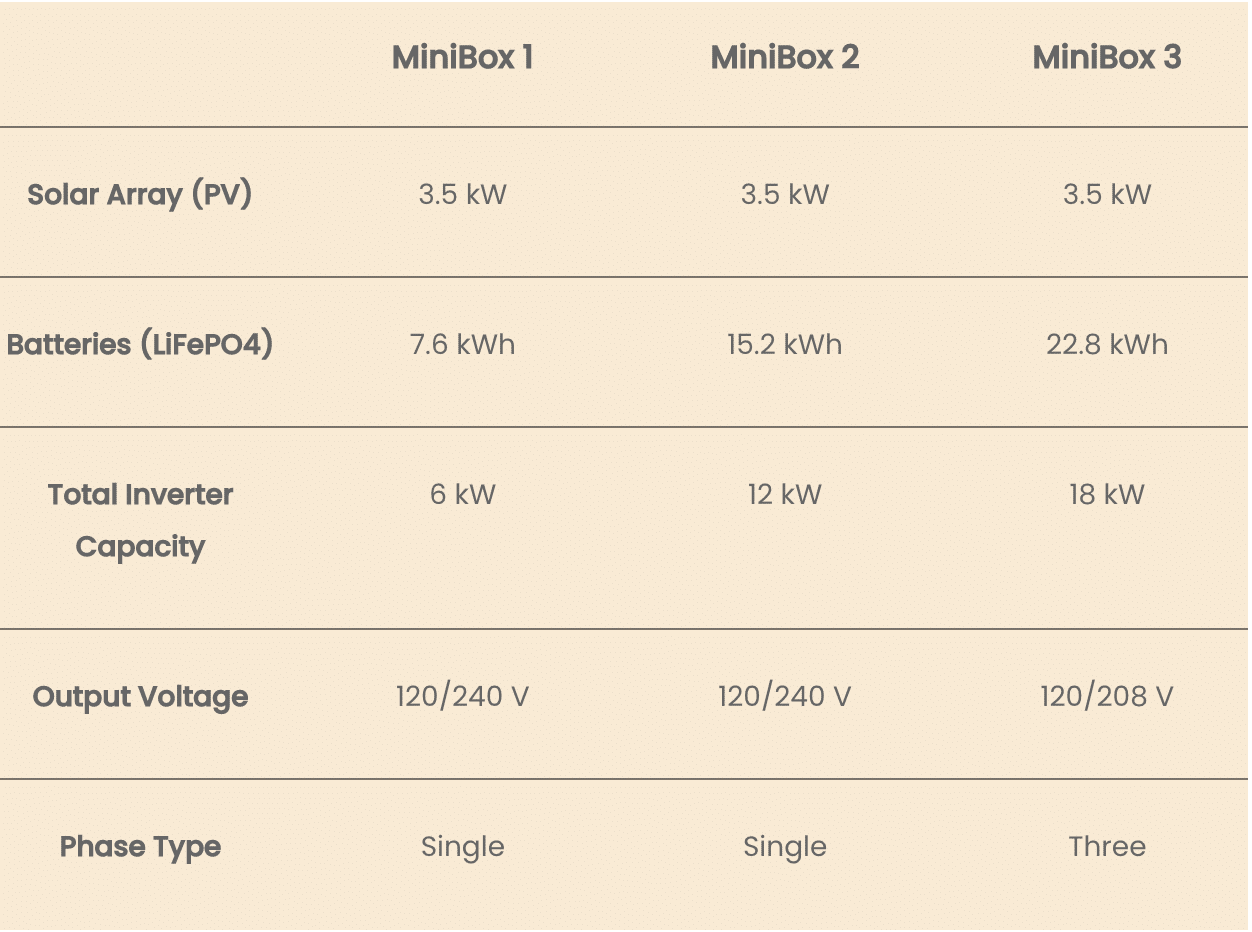 Standard MiniBox Features
Pre-wired inverter and batteries allow for less than a day of setup time
Fully compliant and up to code for easy permitting
Electrical fault and overcurrent protection
Battery backup system provides power when PV is not being generated and to enable peak shaving
Intelligent Bi-Directional Inverters
Best-in-class intelligent inverters increase efficiency, extend battery life, and provide global monitoring access
Rugged Powder-Coated Container
Compact, powder-coated steel enclosure provides a strong, weatherproof environment for inverters and batteries
Allows solar array to be installed, uninstalled, and moved in under two hours
Diagnose issues and observe system functioning at all times
Equipment manufacturer warranty for all components
Optional MiniBox Features
Diesel or Propane Generator
Provides added reliability with automated start, fault protection, and cycle charging functionality
Mountable on a towable trailer, providing simple transit for temporary power solutions
Auxiliary Ground-Mounted Array
Supplies additional PV generation to reduce the need for a backup generator
Learn more about the MiniBox energy container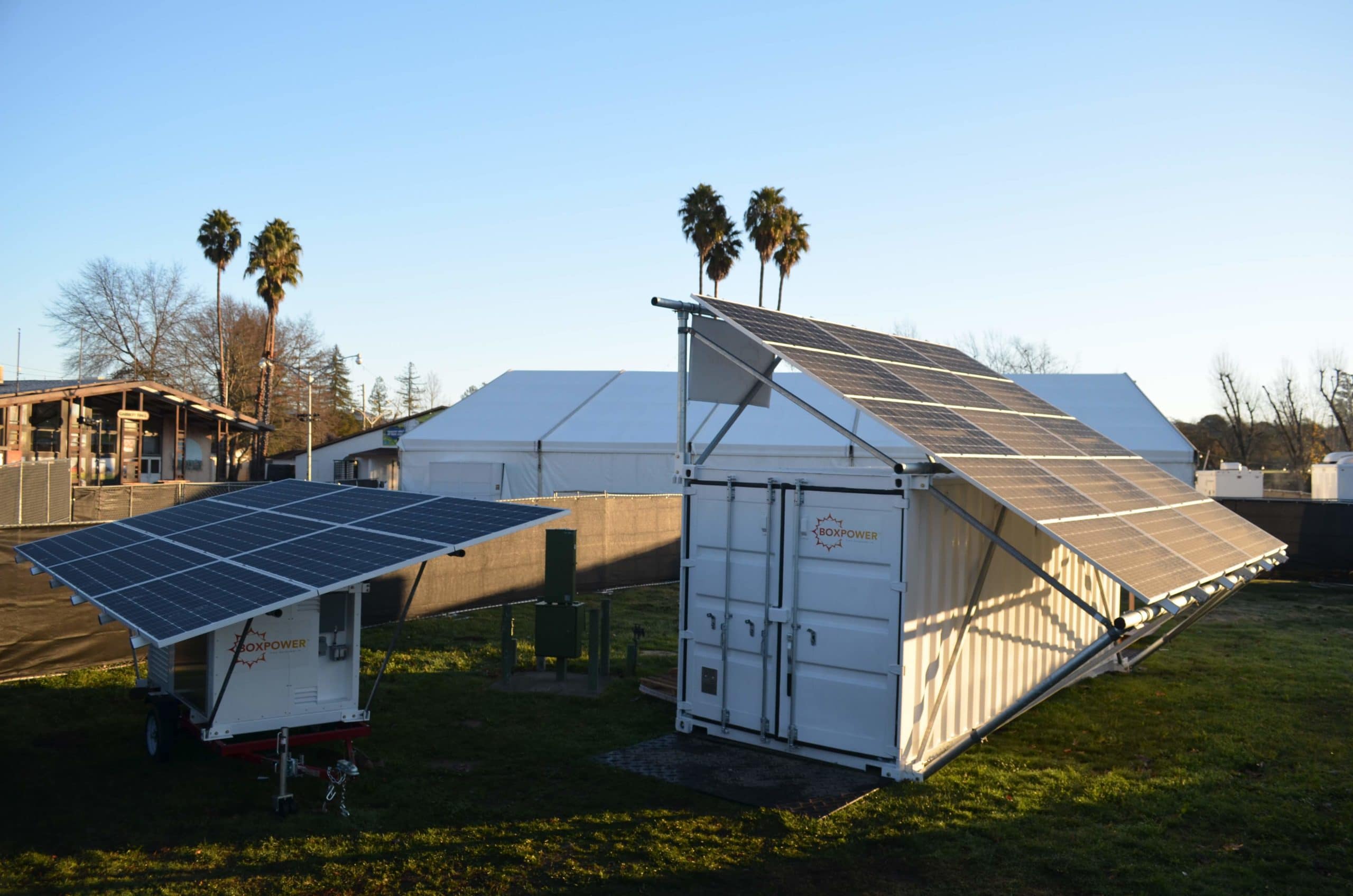 Need a larger solar microgrid solution?
Looking for a modular microgrid in a box with up to 25.2 kW of solar per container? Explore the BoxPower SolarContainer solution.
Need a larger solar microgrid solution?
Looking for a modular microgrid in a box with 6 kW to 528 kW of PV? Explore the BoxPower standard SolarContainer product line.
Get clean, reliable, affordable energy anywhere