Mariposa County Remote Grid is PG&E's First Such Deployment, Others in Development
BRICEBURG, Calif.,  June 7, 2021 — Today, Pacific Gas and Electric Company (PG&E) marked the commissioning of its first hybrid renewable standalone power system, built and installed by BoxPower Inc. The remote grid permanently replaces the overhead distribution powerlines that once served a handful of customers in a High Fire-Threat District (HFTD) area of the Sierra Nevada foothills outside Yosemite National Park, improving reliability and significantly reducing wildfire risk. 
As detailed in PG&E's 2021 Wildfire Mitigation Plan, a standalone power system offers a new approach to utility service. The Briceburg system uses solar combined with battery energy storage and backup propane generation. It provides permanent energy supply to remote customers as an alternative to hardened poles and wires. 
Virtual Tour of the Briceburg Remote Grid
The approach has potential use in other areas as well. Throughout PG&E's service area, isolated pockets of remote customers are served via long electric distribution lines that in many cases traverse through HFTD areas. Replacing these long distribution lines with a reliable and low-carbon local energy source is an innovative option that has now become feasible.
"PG&E is eager to deliver the benefits of remote grids to our customers, and we intend to expand the use of stand-alone power systems as an alternative to certain existing distribution lines, providing enhanced reliability with a lower risk profile and at a lower total cost," said Jason Glickman, PG&E's Executive Vice President, Engineering, Planning and Strategy.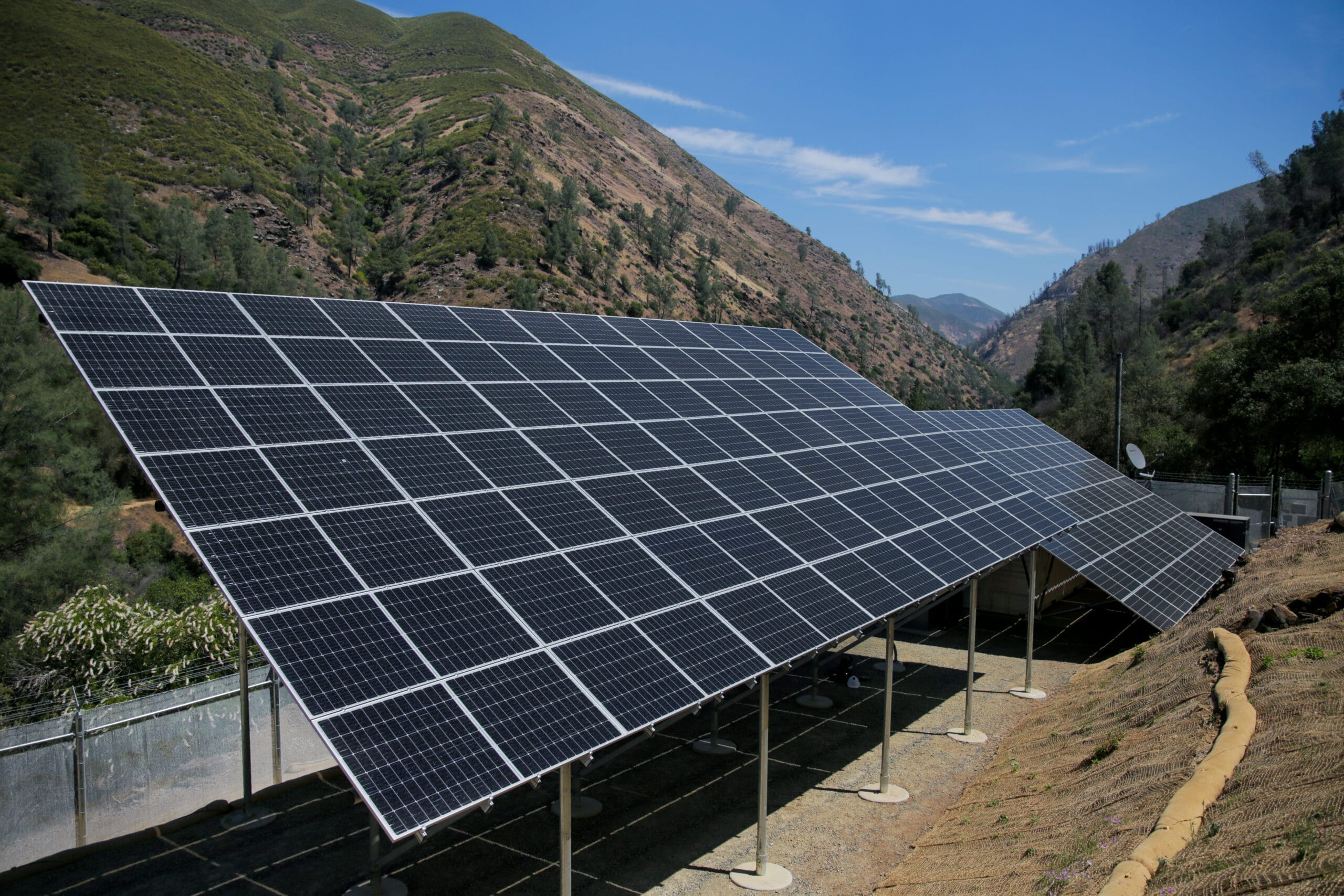 Briceburg Remote Grid 
In Mariposa County, five customer sites lost power in the Briceburg Fire of 2019 when the line serving them was destroyed. The historical line route is challenging to rebuild through the last 1.4 miles of rugged, HFTD terrain. Since then, PG&E has provided temporary generation to meet local customer power needs.
Now, with the commissioning of this new decentralized stand-alone power system, PG&E is transitioning to a hybrid renewable solution. This option will reliably repower these customers without the need to rebuild the overhead line, and the remote grid is intended to meet customer needs at lower lifetime costs and a significantly lower risk of fire.
This Briceburg system is owned by PG&E and designed, installed, and maintained under contract to PG&E by BoxPower.
The system provides up to 89% renewable energy annually, generated by a BoxPower SolarContainer™ and an auxiliary ground-mounted solar array with a total nominal photovoltaic (PV) capacity of 36.5 kW DC. 
In addition to the container-mounted PV array, the SolarContainer™ includes a 27.2 kW / 68.4 kWh lithium ferro phosphate battery energy storage system that was prefabricated at the BoxPower facility in Grass Valley, Calif., before being transported to the site. 
The system also includes two integrated 35 kW propane generators for backup power, and a fire suppression system to protect the hardware and facility. 
Testing initially took place in BoxPower's Grass Valley facility, and subsequently on-site in Briceburg with assistance from PG&E, Underwriters Laboratories (UL), and Generac representatives.
PG&E and BoxPower will be able to monitor and control the system via satellite, with remote performance management, safety diagnostics, alarms, reporting, and automated fuel delivery capabilities.
The containerized microgrid system is designed for rapid deployment and scalability, streamlining future replication at other similar sites.
"BoxPower is proud to play an important role in bringing clean, reliable, and fire-safe power to rural energy consumers through our work with PG&E and other utility companies. PG&E is leading the industry shift in California in terms of using remote grids specifically for wildfire mitigation purposes. PG&E's example is one that other utilities in the state and across the West may be eager to follow in the face of worsening drought and extreme wildfire conditions."

–Angelo Campus, CEO and Founder, BoxPower
The PG&E customers receiving electric service from the Briceburg Remote Grid include two residences, a visitor center, and telecommunications and transportation facilities.  
Learn more about the BoxPower and PG&E remote grid system
Expanding Deployment of Remote Grids
The Briceburg system along with other initial projects will enable PG&E to determine an appropriate expansion of remote grids using standalone power systems to support wildfire mitigation efforts. 
PG&E has identified hundreds of potential locations for remote grids and is targeting up to 20 operational remote grid sites by the end of 2022.
Additional remote grid sites are currently being assessed across HFTDs in PG&E's service area including El Dorado, Mariposa, Tulare, and Tehama counties.
Talk with an expert about BoxPower microgrid solutions for utilities